PAUL ANTHONY SMITH
Politics, class struggle and history meld with the personal and autobiographical in Paul Anthony Smith's fantastically rendered and embellished portraits of his native Jamaica. With particular focus on anonymous citizens such as airport workers, Smith's works celebrate and pay homage to the oft overlooked. His picotage-like images are created by picking away at the surface material of photographic prints to create textures that echo tribal masks and scarification and create a near iridescent effect.
Smith's work has been exhibited throughout the United States and Europe, with recent solo shows at Atlanta Contemporary in Georgia and Zieher Smith & Horton in Milan. He is numerous collections both private and public, including the Minneapolis Institute of Art, the Nasher Museum of Art at Duke University, and the 21c Museum in Louisville, Kentucky. - ℅ Artspace
TOYIN OJIH ODUTOLA
We are so excited to highlight the work of the incomparable Toyin Ojih Odutola, who recently opened her first museum exhibition in New York City at The Whitney. Organized by Assistant Curator Rujeko Hockley and curatorial assistant Melissa Lang, Odutola's exhibition entitled To Wander Determined features a series of fictional portraits, chronicling the lives of two aristocratic Nigerian families. Many in the mainstream may know Odutola's work from the set of Empire, but for the past several years she has carved out her own lane with her larger than life portraits that beautifully render her often anonymous subjects with style and grace. The exhibition is on view in the John R. Eckel, Jr. Foundation Gallery on the Museum's first floor of the Whitney Museum, which is free and open to the public until February 25th, 2018.
LYNETTE YIADOM-BOAKYE
Lynette Yiadom-Boakye is an award winning British-Ghanaian painter whose comprehensive oeuvre over the past decade has come to redefine who was look at portrait painting. The previous Turner Prize finalist depicts fictional characters in her paintings that defy time and space resulting works that are open to the interpretation and imagination of the viewer. By not being bound to a specific narrative, Yiadom-Boakye can explore the complexities of blackness and identity leveraging the language of painting innovative ways. Yiadom-Boakye's work is currently on view in a stunning new exhibition entitled Under-Song for a Cypher at New Museum in New York City until Sept. 3, 2017
DELANO DUNN
Delano Dunn is an award winning New York City based visual artist who utilizes painting, mixed media, and collage to explore the previously overlooked simultaneity of the 1960s American space race and the Civil Rights Movement. By placing socially historical imagery in a contemporary context, Dunn is able to rigorously question a range of issues from racial identity to social justice through his artistic practice. Dunn's surgical precision to art making has resulted in a refreshing vernacular that seamlessly oscillates between the past and future.
February 2017, Delano Dunn will be exhibiting a new body of work in his solo exhibition No One Can Be This Tomorrow at Long Gallery Harlem. The exhibition will explore the false promise of true freedom and equality in the wake of the Emancipation Proclamation, the Civil Rights movement, and the election of Barack Obama, all moments of jubilation in Black America.
No One Can Be This Tomorrow will be on view from February 26th to April 2nd, 2017 at Long Gallery in Harlem.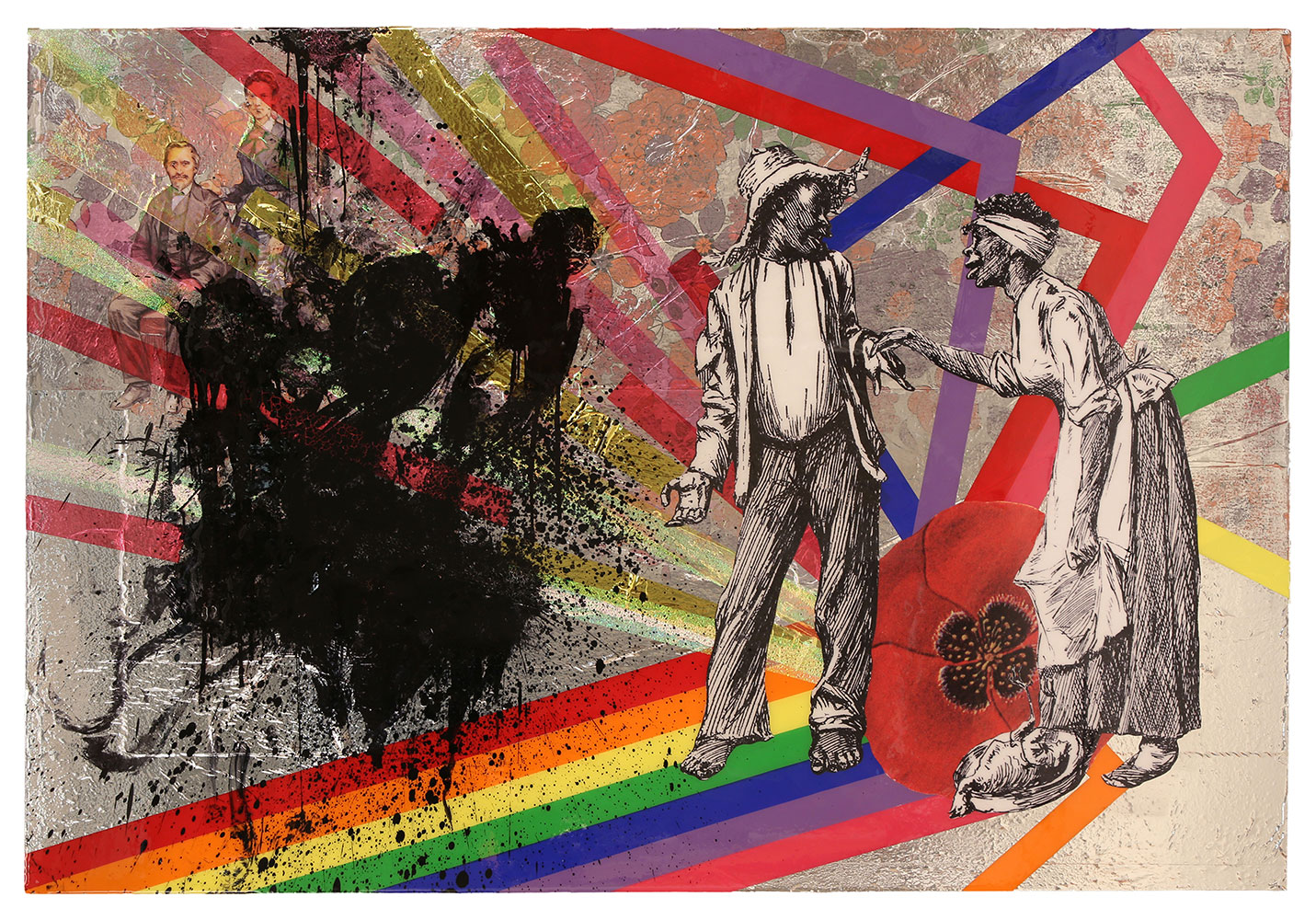 Zanele Muholi is an award winning artist and activist who utilizes the medium of photography to re-write the narrative of black queer and trans visual history in South Africa.

Revered globally, Muholi confronts the stigma and stereotypes often erroneously attributed to black women and transgender individuals. Her landmark photo series "Faces and Phases" is a collection of portraits captured over the past decade that provides a voice and a face to an often invisible community in addition to calling attention to the horrific hates crimes against homosexuals in South Africa.

The co-founder of the Forum for Empowerment of Women and founder of Inkanyiso, Muholi uses photography as a tool to train women in the townships to tell their stories via the power of the photographic lens. Muholi's latest exhibition Personae is currently on view in the FotoFocus Biennial at the National Underground Railroad Freedom Center in Cincinnati, OH until January 23rd, 2017.
BLACK PORTRAITURE[S] III
ARTNOIR IN JOBURG
ARTNOIR is making its first pilgrimage to the motherland and will head to Johannesburg, South Africa to participate in BLACK PORTRAITURE[S] III: Reinventions: Strains of Histories and Cultures. the seventh conference in a series of conversations about imaging the black body.

ARTNOIR will be presenting a series of events investigating the theme, Universal Blackness: The Black Diaspora Experience in the 21st century. READ MORE
NASTIO MOSQUITO
Angolan multimedia artist Nástio Mosquito has gain international acclaim for his provocative use of music, video, installation and performance as tools to explore themes of cultural inheritance, tradition and identity. This summer Nastio is exhibiting a new body of work at the Prada Foundation in Milan, Italy. The exhibition entitled: Template Temples of Tenacity is a multisensory presentation that invites the audience to be an active participates in what promises to be a truly unique experience.
DAVID ADJAYE
Born in Tanzania, based in the UK, and professionally active around the world, architect David Adjaye has made a name for himself by creating physical spaces that enrich and improve a community's daily life through design.
Adjaye's holistic approach aims to marry geography with social and historical implications, and can be seen throughout all of his work, which spans across private residencies, civic buildings and public institutions.

Recently named a finalist to design the Obama Presidential Center in the South Side of Chicago, David's career-topping work includes the Smithsonian National Museum of African American History and Culture in Washington DC, the Nobel Peace Prize Center in Oslo, the Moscow School of Management, and the Aishti Foundation in Beirut, among others.
As a recipient of MIT's Eugene McDermott Award, Adjaye's approach to design can only be seen as an artform, informed by cultural narratives that lay the foundation of his work.
"For me, the primary act of architecture is to be socially edifying and socially liberating. It's an emancipatory form. And inherent to this is having a politic which is to do with bringing people up, the politics of progression and of the progression of people." - David Adjaye
FIRELEI BAEZ
"I am interested in the ethics of art, and enjoy being part of the entire creative process: from the prepping of surfaces and mixing colors, to the actual painting. I'm interested in women's work, in the handmade, in labor and craft, in introducing my body through the tactility of painting, through the process of looking at the movement/rhythm of the hand, which is different from mechanically produced marks." –p 26, Firelei Baez Bloodlines



Firelei Baez's latest exhibition Trust Memory Over History is currently on view at Gallery Wendi Norris in San Francisco until March 5th, 2016.
NINA CHANEL ABNEY
"People who are familiar with my work know that I'm always picking hot topics," she says, adding that the work also addresses "how something could be hot and then fizzle." But don't go prodding for a backstory, she wants the work to stand alone: "I'm not going to give you one story, because I'm more than one thing," says Abney. "Whatever I feel like painting, I just paint it. For me, nothing is off-limits." - Kurt McVey, Vanity Fair, October 15th, 2015
THE GUIDE TO BASEL
ARTNOIR is proud to present our first annual Guide to Art Basel Miami Beach. Discover our favorite places to eat, party and much more as you immerse yourself in the magic of Basel. Whether you are a seasoned Basel vet or a newbie, this guide has been curated with you in mind. See you on the beach!